Course Descriptions
Real Estate Sales Agent & Broker Courses
Below is a list of all the (Qualification) pre-requisite courses needed to qualify to get both Sales Agent and Broker Licenses. The requirements would be different for each, 3 courses would be needed for Sales Agents and 8 courses for Brokers. In addition to the completion of the courses we offer a full license preparation program that will help prepare students to pass the actual state exam.
In fact, we've helped more than 300,000 students already! We have put together packages that include everything you need to get your license as quickly as possible. See the price box located directly on our homepage along with detailed information on both the Sales Agent and Broker sections.
Search the DRE website to see our course approvals: http://secure.dre.ca.gov/publicasp/cestatutory.asp
---
Real Estate Appraisal (Approval# 3925-17)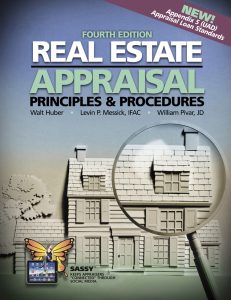 (Not Available on PDF Format) Huber, Messick, Pivar, 4th Edition, Copyright 2013
Covers the fundamental principles of evaluation properties. Learn the basic essentials of determining property values. Excellent course for new licensees. One of the most important of the 8 courses required to qualify for the real estate brokers license examination due to the fact the tougher questions on the brokers exam are those relating to appraisal.(588 pages)
Real Estate Economics (Approval# 3927-17)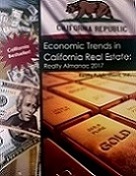 Realty Publications, 2017 Edition, Copyrights 2017
May be used as an elective if Accounting already taken. The economics of a parcel of real estate are characterized in light of land use patterns, supply and demand factors, forces driving the housing sector, business cycle influences on non-residential income properties and local demographics. Coupled with…issues ranging from national monetary and taxing policies to local use restrictions and national, regional and local economic cycles.(487 pages)
Real Estate Finance (Approval# 3924-17)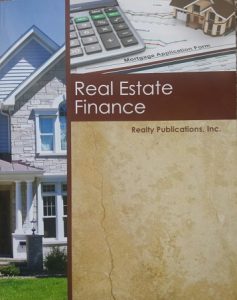 Realty Publications, 8th Edition, Copyright 2016
Discover what every well-informed real estate broker must know about private lending and carryback sales – including types of notes and trust deeds and their provisions, as well as seller financing schemes.(691 pages)
Legal Aspects of Real Estate "Law" (Approval# 3926-17)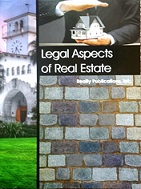 Realty Publications, 6th Edition, Copyright 2016
The ownership and conveyancing in California of estates and licenses held in real estate are covered in Legal Aspects, as well as all vestings, including rights of survivorship, living trusts, and the LLC for real estate syndication. Including…clouds on title, slander of title, partition by co-owners, adjacent owner disputes, water rights, public trust of water, common driveways, easements, encroachments, nuisances, preliminary title reports and title insurance.(472 pages)
Mortgage Loan Brokerage (Approval# 3928-17)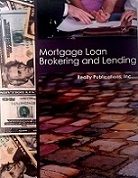 Realty Publications, 1st Edition, Copyright 2016
A manual on the best practices on originating, servicing and foreclosing on consumer and business mortgages under state and federal rules. Topics include licensing and management, consumer and business mortgage practices and reports, types of mortgages, consumer protection laws, servicing, default and foreclosure and private lender mortgages. (581 pages)
Real Estate Practice (Approval# 3923-17)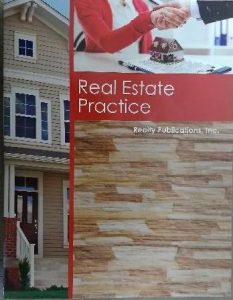 Realty Publications, 7th Edition, Copyright 2015
The use of forms to make disclosures, prepare a property analysis, or enter into an agreement on any aspect of a real estate related sales transaction is the essence of Real Estate Practice. Each form is presented as a checklist of items and provisions to be considered when using the form, presented as guidelines and rules for their use.(672 pages)
Property Management (Approval# 3929-17)

Realty Publications, 6th Edition, Copyright 2016
The detailed and exacting rules of leasing and renting both residential and non-residential income properties are examined and applied in hundreds of vivid landlord/tenant situations encountered daily by owners, managers and leasing agents. Along With…all forms and notices required to establish management and leasing agencies to create, manage and terminate tenancies and to preserve rent obligations for enforcement.(650 pages)
California Real Estate Principles (Approval #3922-17)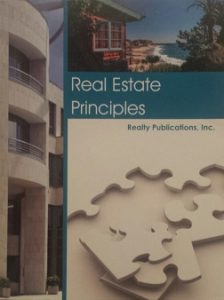 Realty Publications, 2nd Edition, Copyright 2017
Principles covers more of the basic fundamentals of real estate than any of the other courses The material in Real Estate Principles is a broad collection of fundamental real estate concepts a new agent or broker will likely encounter in their first four years of practice. Included are…basic agency issues, fair housing rules, property disclosures, property valuation, purchase offers, rights of ownership, adjacent property issues, title and vesting, notes and trust deed financing provisions, default and foreclosure, property management, construction and real estate math.(622 pages)